06-07 Harley Davidson VRSCR Street Rod Corbin Hollywood Driver & Passenger Seat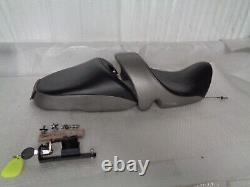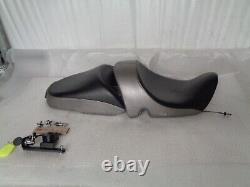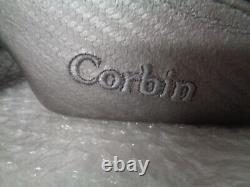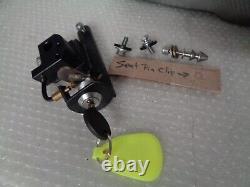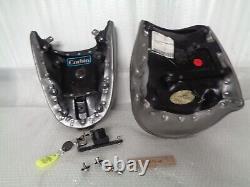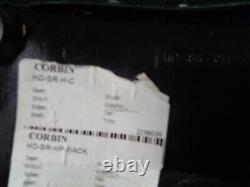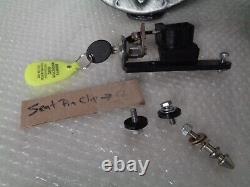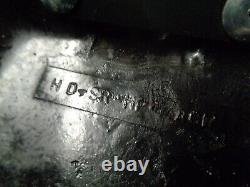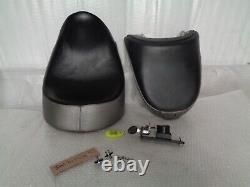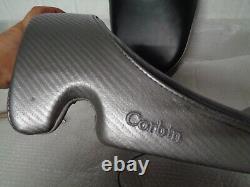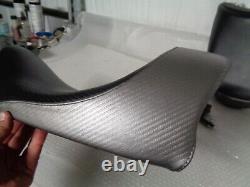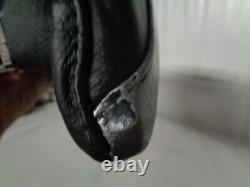 There are a few minor cosmetic imperfections from normal use, rubbing etc. Overall they are in good used condition.
Includes 1 key for the lock. 06-'07 Harley Davidson VRSCR Street Rod. DESCRIPTION: (note- this seat is the "close" version driver seat and "rack version" passenger seat). Part of a series of modular seating components for the H-D Street Rod.
Standard Hollywood Solo features a roomier seating position moved back approximately two inches from the stock seating posture while our Close version keeps the rider seated closer to the bars for an easier reach. Both are sculpted for an ergonomic fit to the human body for better weight distribution and support. Using our exclusive high density Comfort Cell foam allows a low profile that will support you for hours.
Corbin front saddle models work with a coordinating passenger pillion. We offer two models of the Hollywood Solo; the CLOSE model and the Standard model. Close model is designed for riders who want an easy reach to the bars and pavement. If you feel cramped by the position of the stock seat, then the Corbin Standard version is for you with seating 2 further from the bars.
See Corbin site for a side by side comparison of the two seat models. The Close Hollywood Solo has a seat pocket placed similar to the stock seat with a slightly lower platform.
Normally we wouldn't built backrest support into a low profile style like this, but the ignition module on the fender required a slightly higher seating platform which left us room for the hardware. Corbin backrest installs with a single screw under the saddle and adjusts easily to passenger's profile. Like the saddles themselves, our backrest is sculpted to fit the human body for maximum weight distribution and comfort. Notice how the Corbin saddle maintains a smooth, low profile line even with backrest hardware inside. While developing this setup, we engineered our basepan to mold over the electronic components on the fender in a much smoother and lower fashion which gave us more flexibility of design. Our Fibertech base material provides a rigid platform to support the foam and assure the carefully designed ergonomic shaping remains intact. It also allows us to build a very close fit to the fender and chassis for a custom look. Because of this close fit, we have a pillion pad specially designed to work with the HD fender baseplate / backrest if you have it.
All components include genuine leather seating panels in your choice of colors and styles. On this page we show a plain black model that gives a subtle and classy appearance and also one covered completely in our grey faux snakeskin material for a bit more radical look. Leather provides a luxurious ride that breathes with your body and will break in along with the foam shape for a personalized fit. Naturally, all material options available for your saddle(s) are also available for your Corbin backrest. Notice how the sculpted shaping of the Corbin components fit the human body for good support.
Not only does this do a better job of dispersing your weight, but it helps to eliminate hot spots. Our neutralized seating position helps to eliminate sliding in the saddle which in turn reduces fatigue. We incorporate a key lock mounting system into the Hollywood Solo to help secure your saddle investment against thieves while maintaining simple operation at fuel stops. Bracket installation is simple with common hand tools. Notice how closely the Corbin pillion fits and emulates the shaping of the HD fender. Because of this we will be offering two models of the passenger pillion; one fits directly with the fender as shown, the other fits with the sissybar / backrest assembly available from Harley-Davidson. Either will work perfectly with the Corbin Hollywood Solo front, but not with the stock components. Due to the size of the "box" built into the stock basepan to cover the ignition module, we were unable to make our saddles work with the stock components... This item is in the category "eBay Motors\Parts & Accessories\Motorcycle Parts\Seats & Seat Parts\Seats". The seller is "bmcmark" and is located in this country: US. This item can be shipped worldwide.
Manufacturer Part Number: HD-SR-H-C / HD-SR-HP-RACK
Brand: Corbin